A T206 Honus Wagner card sold for $6.6 million in an online auction that concluded early Monday morning, smashing the record price for a baseball card.
This story originally appeared on Forbes.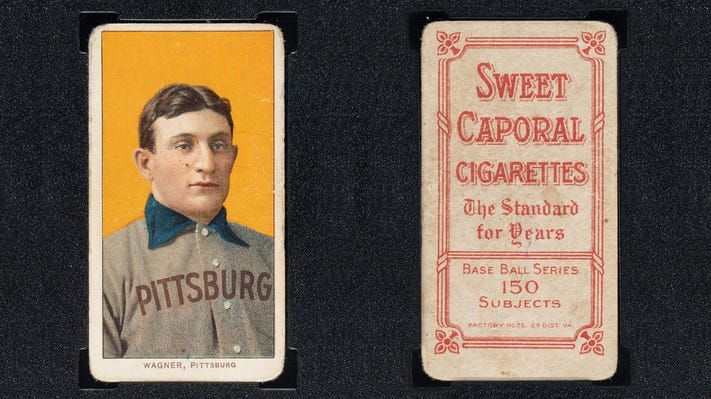 The card, which was issued by the American Tobacco Co. between 1909 and 1911 as part of what is now known as the T206 series of baseball cards, has a long history as baseball's most valuable card, maintaining that distinction for most of the history of the hobby. One such card set a mark at $3.12 million in 2016, but the Wagners were overtaken last August by a one-of-a-kind card featuring modern-day superstar Mike Trout at $3.93 million and then in January by a Mickey Mantle rookie card at $5.2 million.
Now, the record again belongs to Wagner, a legendary Pittsburgh Pirates shortstop who played his last major league game in 1917 and was one of the five members of the Baseball Hall of Fame's inaugural class in 1936.
The auction, run by Robert Edward Auctions, opened on July 23 with a reserve price of $1 million, but the bidding quickly left that figure in the dust. The escalation stalled for a bit after a $4 million bid came in on July 28 but picked back up as the deadline approached, with the 26th and final bid coming just past midnight EDT on Monday and carrying a so-called hammer price of $5,505,247. Adding in the 20% buyer's premium that REA collects pushes the official sale price to $6,606,296.
At least for the time being, the buyer remains anonymous, as does the seller.
The 110-year-old card—which was part of a private collection for more than three decades before it was sold at auction in 2012 for $1.2 million and then sold again privately in the last couple of years—had received a grade of VG 3 by the authentication agency SGC. That rating (on a scale of ten) suggested it was in exceptional condition relative to many of the 60 or so other copies of the card thought to exist today.