This story originally appeared on Action Network.
Most Expensive Sports Trading Card Sales to Date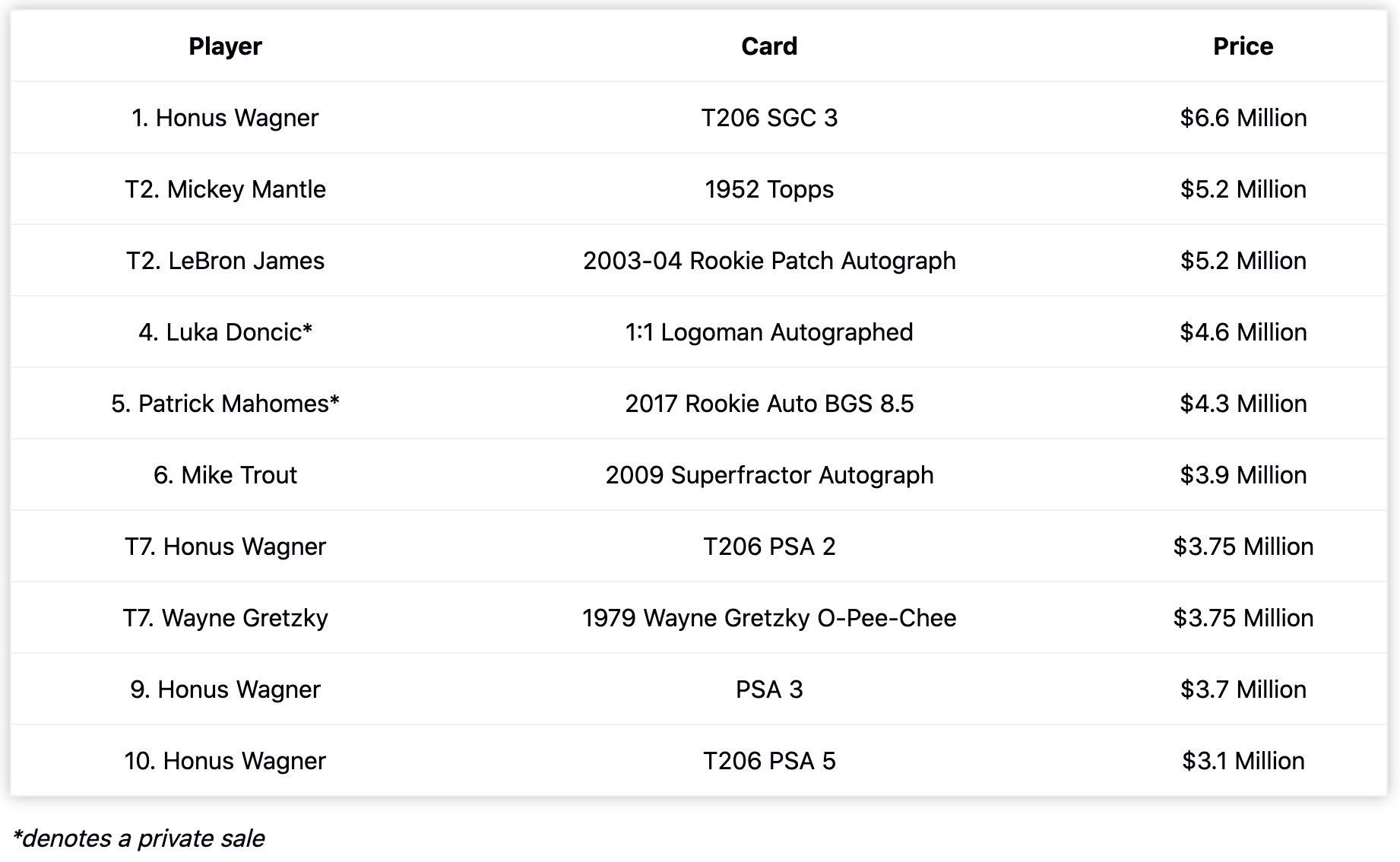 For years, the T206 Honus Wagner reigned supreme not only as the most famous, but the highest price of all baseball cards, famously selling for $1 million in 2000.
But in the last year alone, a 1952 Mickey Mantle card sold for $5.2 million. And a slew of modern cards trumped the record for a Wagner, $3.75 million paid in May.
A LeBron James logoman card sold for $5.2 million. A Luka Doncic logoman card sold for $4.6 million. And a Patrick Mahomes rookie patch card recently sold for $4.3 million.
On Sunday night, the famous card found on cigarette brands from 1909 to 1911, sold at Robert Edwards Auctions for $6,626,096, including buyer's premium, taking the crown of the most expensive baseball card once again.
The sale gives Wagner four of the top 10 spots on the all-time sales list. Two other spots on the list are held by baseball players, and players often compared to each other: Mickey Mantle and Mike Trout.
July 28, 2021 Update
Patrick Mahomes continues his record-setting ways, but this time it's in the memorabilia market.
A 2017 National Treasures NFL Shield Patrick Mahomes rookie autographed card sold at a private auction for $4.3 million, making it the most expensive NFL trading card sale to date.
The card is a BGS 8.5 and 1-of-1. It easily topped Tom Brady's 2000 Playoff Contenders autographed card, which sold for $3.1 million.